Why Choose WordPress For School and University Websites?
by Ronnie Burt
Last updated on September 29, 2020
WordPress vs. Proprietary CMSs
When it comes to choosing a Content Management System (CMS) for your school or university website, you're facing a big decision. Essentially, your CMS is the foundation of your website. Like the foundation of a building, it's difficult to change it once you've constructed something on top of it.
If you're building a website, WordPress should make your shortlist of potential platforms. This free, open-source CMS provides benefits similar to a proprietary software without some of its significant drawbacks. WordPress also has features that make the ideal choice for a school or university website.
Read on and we'll explain the differences between WordPress and a proprietary CMS. Then we'll describe some of the specific advantages the former offers. Let's get started!
Comparing WordPress and a Proprietary CMS
A Content Management System is software that you can use to build and maintain a website. More specifically, it's a platform that enables you to create, edit, and manage web content. This may include blog posts, portfolio entries, or a wide variety of other digital mediums.
Every CMS provides a Graphical User Interface (GUI). This lets you interact with the software without the need for coding experience. There will be user-friendly icons, buttons, menus, and other features that will help you accomplish tasks necessary to maintaining your site.
WordPress is an open-source CMS. 'Open-source' means that anyone can create and distribute the software's source code. In the case of WordPress, this has resulted in a passionate, collaborative community that continually improves the platform. It has become wildly popular and powers over 30 percent of the web.
A proprietary CMS, on the other hand, is the legal property of whoever owns it. You will need to purchase a license to use the software. Examples include Sitefinity and Sitecore.
Although open-source doesn't always translate to 'free of charge,' you can download WordPress without paying a cent and install it on your choice of server. As we'll explore in more detail later, this often results in significant savings.
Additionally, if the owner of a proprietary CMS chooses to discontinue or stop maintaining it, there's nothing you can really do about it. On the other hand, open-source platforms such as WordPress are less likely to become defunct as anyone can pick up where the previous developers left off and continue modifying and improving the code.
To sum it all up, while you may be able to find a proprietary CMS with some features that are similar to WordPress, the way the two types of software are managed is much different. This can cause many ripple effects for your website over time.
Why Choose WordPress?
While there are pros and cons to both WordPress and proprietary CMSs, we believe WordPress offers too many advantages to pass up. Here, we'll have a look at 12 key reasons why you should choose it for your school website.
1. WordPress Is Easy to Use
You don't need a lot of technical knowledge to be able to set up and maintain a website with WordPress. This ease of use starts with the installation process.
You can install WordPress in about five minutes using File Transfer Protocol (FTP) and an FTP client. However, most web hosting companies offer a one-click install option.
Once you have WordPress installed, you can handle any required updates right from the admin dashboard. In fact, you're able to perform most day-to-day tasks from the dashboard with no special skills or code access required.
Part of what makes WordPress so easy to use is the abundance of available themes and plugins. A theme is a collection of files that determines what your website will look like. Plugins, on the other hand, add functionality to your site.
Themes determine the initial appearance of your website, but they're also generally quite customizable. WordPress includes a What You See is What You Get (WYSIWYG) editor known as the Customizer that makes it easier to build a site that matches your vision.
The most challenging part of choosing a theme is the sheer number of choices you're presented with. This can feel overwhelming at first, but you can make the decision easier by narrowing your search to features that are relevant to you. You can even browse themes that are designed specifically for school websites: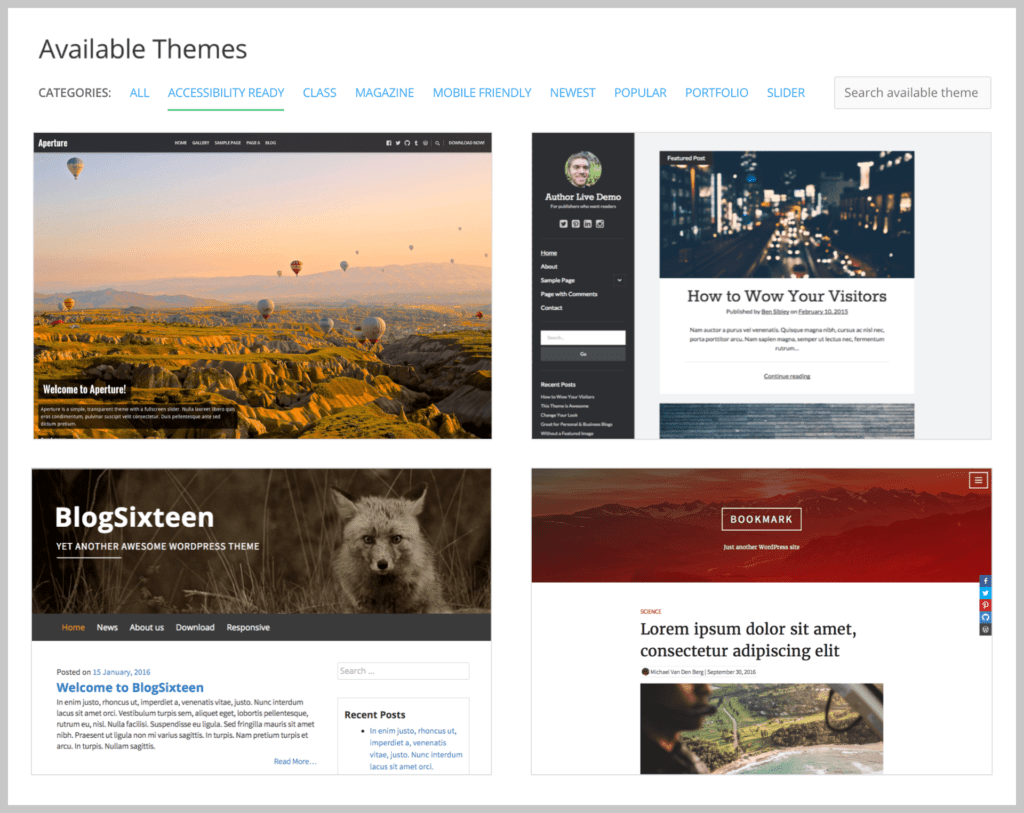 WordPress plugins are available to provide just about any sort of functionality you might want. You can use them to create a school calendar, monitor content, make sure your site is accessible, and much more: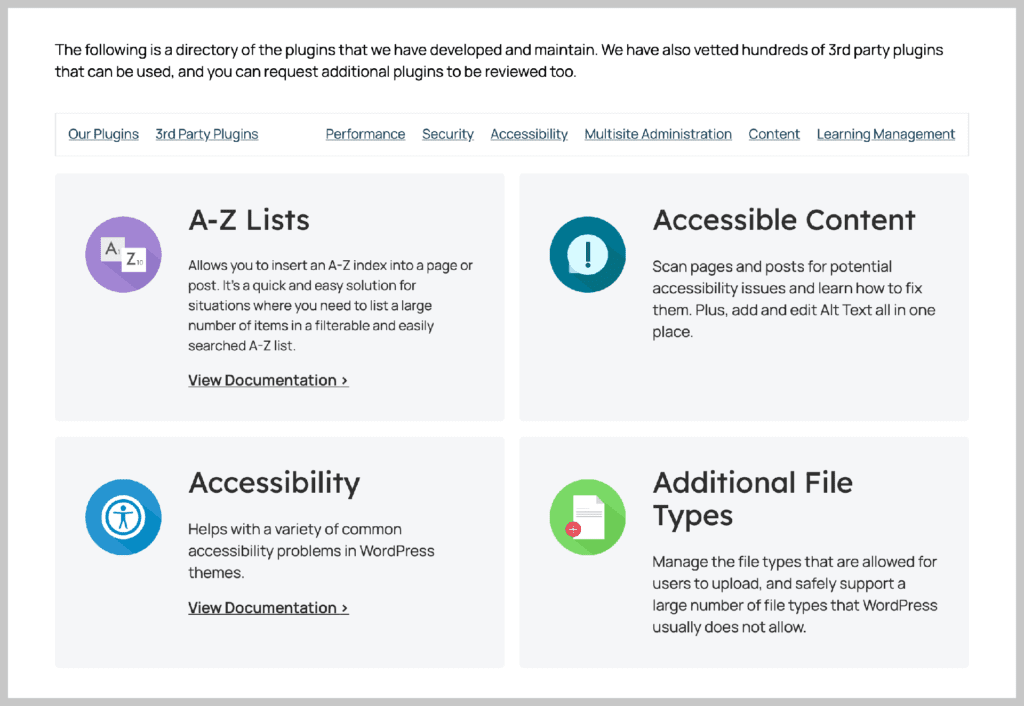 The possibilities offered by plugins are another reason to choose WordPress. There are tens of thousands to choose from, built by many different developers. With a proprietary CMS, you'll be limited to the built-in functionality the platform provides.
2. It Enables You to Add Multiple Users
Unlike most proprietary platforms, WordPress doesn't require you to purchase additional licenses if you want to grant access to more users. These fees can add up fast, especially when you consider how many individuals may need their own accounts, including administrators, instructors, IT specialists, or even students.
When you create a new user in WordPress, you can assign them a role, which defines their account's 'permissions' or access level. There are six different roles, ranging from super admin to subscriber. Each has its own set of capabilities. By assigning them carefully, you can ensure everyone can use the website without having too much power.
The ability to add an unlimited number of users can be especially beneficial for distance learning. Each student can have an account they use to log in to a course blog. You can set up this online space to facilitate discussions, store course materials, and enable students to submit assignments.
With WordPress, you can take it a step further and easily integrate with dozens of authentication options for single sign on and user management.
3. The Block Editor Streamlines Content Creation
While it's always been relatively easy to create content with WordPress, the Block Editor is enabling even more people to build elaborate, media-rich posts: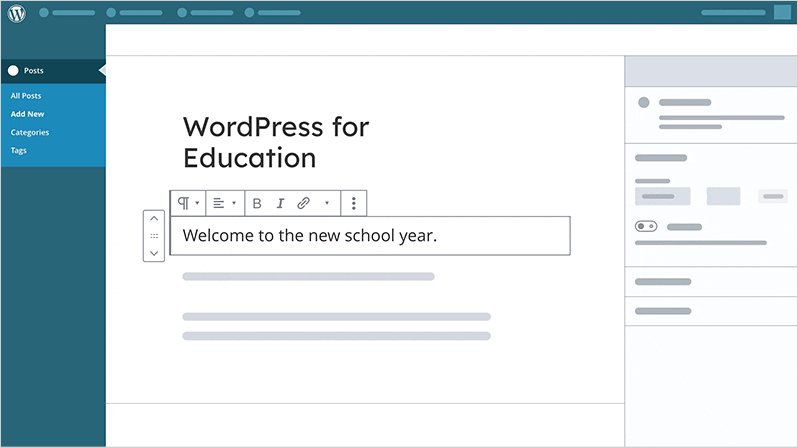 The Block Editor makes use of drag-and-drop functionality, so you don't need to be a coder or a designer to make visually-appealing content. It's now a much smoother process to place text, images, and other elements exactly where you want them to appear than it was with the platform's previous interface.
No matter what you're trying to achieve, there's probably a block for it. You can add separators, tables, lists, and buttons with no coding required. However, if you want to add custom HTML, there's a block for that too. There's even a Classic Block that mimics the TinyMCE editor, in case you're more comfortable writing in that environment.
You can add a lot of personality to your school site's typography using blocks. Try the Pullquote Block to draw attention to important information. You might also try using a Timeline Block to highlight key dates throughout the school year.
WordPress contributors are adding new blocks all the time, enabling you to express your creativity in many ways. If you're feeling adventurous, you can even make your own custom blocks.
4. It Supports Many Different Types of Media
The list of accepted file types for WordPress is pretty extensive, covering everything from images to documents and video. This flexibility gives users a lot of freedom to be creative in their lessons and student projects. A proprietary CMS will likely allow a more limited selection of media.
Combining media with the Block Editor opens up a lot of possibilities. You can experiment with audio blocks and embed music, announcements, or even podcasts. You can set it to autoplay when a visitor lands on the page.
This freedom to use a variety of media could be especially useful for students building online portfolios. Including different types of content may help their digital collections of projects and assignments stand out.
5. You Have Your Pick of Hosting Options
If you work with a proprietary CMS, you may have limited options when it comes to a web hosting provider. Some come bundled with this service, so you won't have a choice at all.
A web host supplies the server that stores your website and delivers content to your visitors. It impacts the availability of your site, how fast it loads, and even how secure your data is.
Providers vary by quality, which can affect your site performance and uptime. If your site is used for online learning, the importance of working with a reliable host can't be overstated. You'll also want to be able to access support if something goes wrong.
Web hosts may offer additional features with their services, such as maintenance or advanced security. Shopping for one for a school website comes with its own unique set of challenges, often including a limited budget and a diverse group of users.
With WordPress, you're able to choose the best hosting provider for your needs. Your choice of web host isn't one that you can take lightly. It's essential to have the freedom to choose one that you'll be happy with long term.
6. WordPress Enables You to Export Content
This is quite possibly the most important point in our list. WordPress enables you to export your entire website or any portion of it. While this might sound complicated, it's really just creating and saving a copy of your site. You might need to do this if you decide to change hosting providers, move to a different server, or just want to have a backup in case of technical issues:
Note that you don't have to export your whole site. WordPress is quite flexible and lets you select specific content you'd like to include. You can choose to save posts, pages, and/or your media library.
We believe strongly that data ownership and data exportability should be a deal breaker if not currently possible in whatever CMS you may be using. With WordPress, you won't be stuck with a single host, company, or service provider. And whatever CMS you may use after WordPress will almost certainly have a way to import from WordPress too.
However, when you sign on with a proprietary CMS, this option may not be available to you. In fact, you may not even own your content. That means if you ever decide you're unhappy with your CMS, it's difficult to leave. You'll likely need to rebuild your entire website from scratch.
7. The WordPress Community is Vast and Supportive
One argument you may hear for using a proprietary CMS is that they provide superior support. This makes sense, given that you're paying for a product. However, the WordPress community is massive, extremely knowledgeable, and ready to help.
Unlike a proprietary CMS, everyone can contribute ideas for new WordPress features. In fact, you're encouraged to do so. This spirit of collaboration has resulted in a flexible, user-friendly CMS that continues to evolve.
Additionally, the community tends to quickly fix any issues that crop up with WordPress. This is possible due to the platform's popularity and the large number of people who can address support requests and tickets. Problems are identified and swiftly reported since WordPress powers so much of the internet.
The community's speedy response also contributes to security. As soon as a weakness is found, developers get to work on a fix. This can help to mitigate potential damage.
Plus, as we mentioned earlier, since a community and not a company maintains WordPress, you never have to worry about it going out of business. If a proprietary CMS shuts its doors, you may find yourself without a website.
8. You Have More Control Over Your Site's Design and Content
A proprietary CMS is not going to allow you access to its source code. This means you need to go through the parent company if you want to make significant changes to your site. While companies vary in how closely they guard their code, you'll always have more control over a WordPress site.
Some proprietary CMSs go so far as to use their own coding languages. So even if you have limited access to the code, you probably won't be able to make any changes yourself. You would need to find a developer who knows that coding language or invest in expensive training for yourself.
The fact that WordPress is open source means you can make changes and updates to your site whenever you like. These adjustments might include anything from adding a new sidebar widget to completely overhauling the look of the website.
Since WordPress is also relatively easy to use, you have more ability to delegate. For example, if your university has a multisite network with separate department websites, those sites' admins can perform their own changes. Even small customizations can add up in terms of time, so you could potentially reduce your workload a bit by using WordPress.
9. WordPress is Less Expensive Than a Proprietary CMS
Purchasing a license for a proprietary CMS can be very expensive. You'll likely pay by the month or year. There could be other costs associated with using this sort of software that may cause you to exhaust your budget faster than anticipated.
If there are additional features you'd like for your website, you'll probably have to purchase them separately. For example, you may have to pay for Search Engine Optimization (SEO) tools. This is something that can be added to WordPress through a plugin at no cost.
Not every CMS comes with an intuitive dashboard, so you may need to pay for training to learn how to use it. The price for this can escalate rapidly if you plan to have additional users, as they'll need training as well. While WordPress' interface is easy to learn, there's also plenty of free documentation and tutorials available if you need help.
Proprietary CMSs sometimes bill website maintenance separately. This may include updates, security monitoring, or speed optimization, among other services. With WordPress, you're able to handle this upkeep yourself from the dashboard. Managing these tasks in-house also provides the peace of mind of knowing they've been done.
There are some costs associated with WordPress, although the platform itself is completely free. These include your hosting plan and registering a domain name.
There are also premium themes available that you may want to purchase. Plugins often have a cost to upgrade and unlock additional features. However, these are optional and you can purchase them on an as-needed basis. It's much easier to make WordPress fit any budget.
Due to the size of the WordPress developer community, it is also usually more affordable and easier to recruit, train, and retain WordPress developers too – which can mean significant savings in your budget.
10. It's SEO-Friendly
WordPress is designed to be SEO-friendly. Many WordPress themes are optimized for speed, which can help your rankings. With Google penalizing overly slow sites, or sometimes not ranking them at all, it's crucial that yours loads fast.
The fact that WordPress sites are so user-friendly also contributes to SEO. Speed, optimization for mobile devices, and easy-to-use layouts can contribute to better User Experience (UX). This encourages visitors to spend more time on your site, reducing your bounce rate.
There are also numerous plugins available to help you out with on-page SEO. They can guide you as you create content to ensure you're using keywords to their best advantage and that your text is easy to read and understand.
11. The Platform Is Flexible and Scalable
There's a misconception that WordPress is only for blogs. Although it started out that way, this isn't true anymore. You can use it to create nearly any kind of website, from a news magazine to an online shop.
On the other hand, most proprietary CMSs cater to a specific industry or purpose. You may end up with functionality you don't want, but can't get rid of. This, combined with how difficult it is to make stylistic changes, can result in a website without much personality. In fact, it's likely your site won't look very different from others built with the same platform.
WordPress' flexibility makes it ideal for classroom use. For example, you may want to build a school website that also enables teachers to create class blogs. Plugins also come into play here, as they can add functionality that teachers can take advantage of.
WordPress' flexibility is largely thanks to the number of plugins and themes available. You can start with a well-built theme and use it to create a website that shows your school's unique personality. With the help of a few plugins, you can add or remove features as you need them: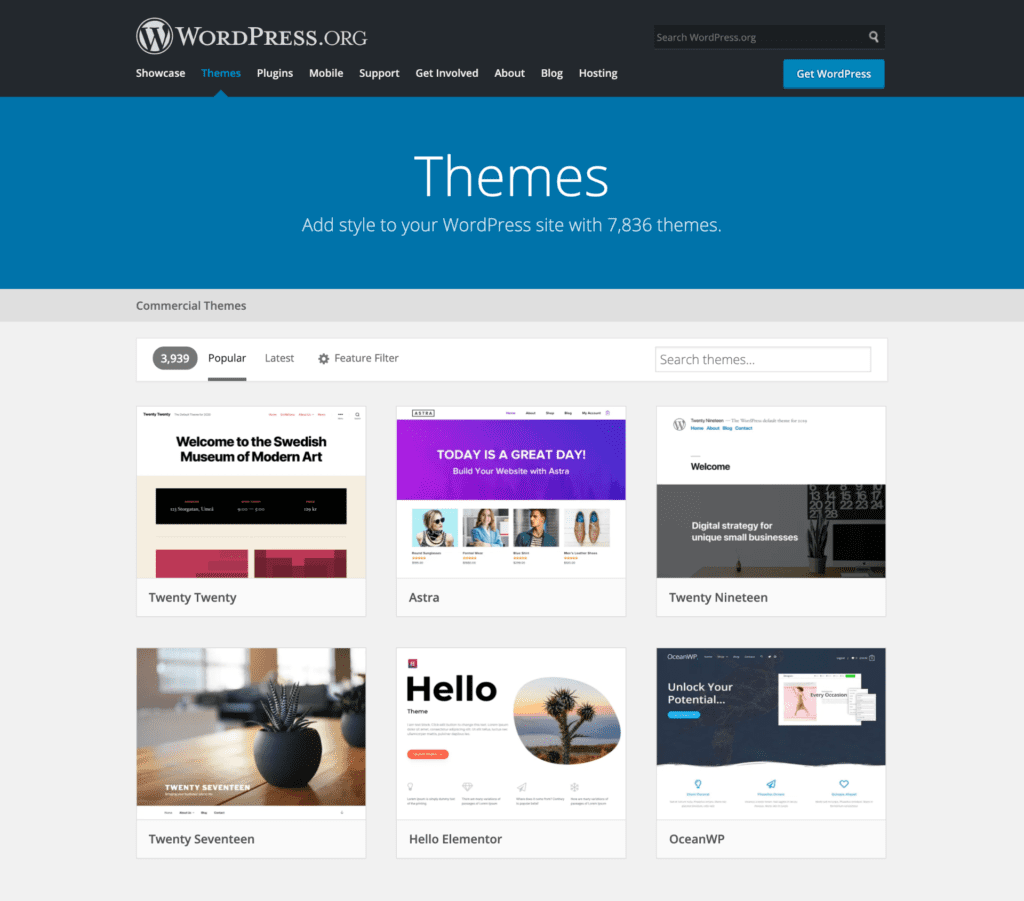 WordPress is also highly scalable. As your needs change and grow, you can add more pages or even build a network using its multisite feature. If you're working for a university, this can enable you to create sites for each department, course, or individual professors and students.
12. WordPress Emphasizes Accessibility
WordPress places a strong emphasis on accessibility. Its goal is to enable anyone to consume and create content. To achieve this, the platform's developers focus on both front and back end accessibility.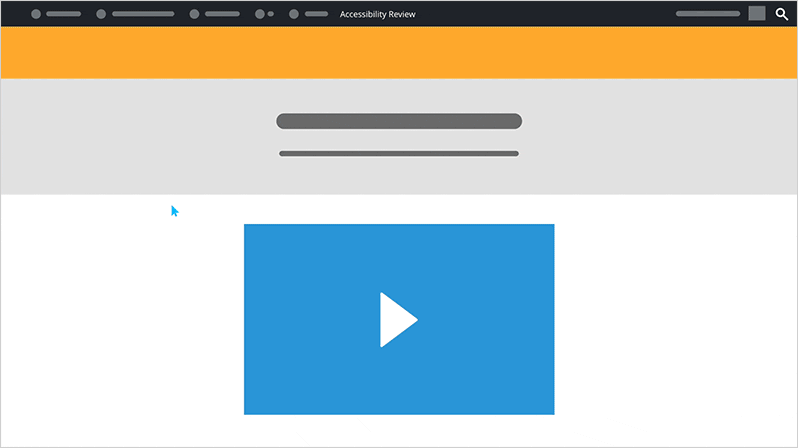 For example, WordPress makes it easy to add alt text to images. This functionality not only helps those using screen readers, but it can also boost your SEO if you include keywords.
WordPress has a collection of accessible themes available to get you off to a strong start. Each is designed to meet exacting standards: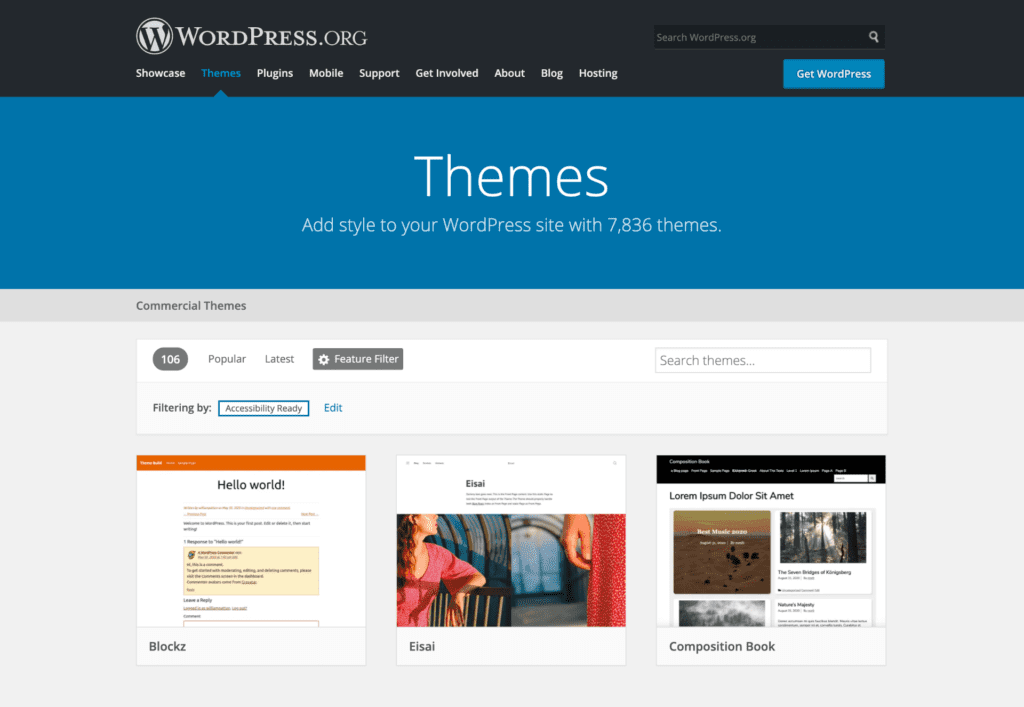 There are also numerous plugins available to ensure accessibility over the long term. Some focus specifically on your site's content. The Accessible Content Plugin highlights potential issues so you can review them before publishing new posts or pages. This can help keep everyone who contributes to the site focused on maintaining accessibility.
Conclusion
Your choice of CMS can have far-reaching consequences for your school website. It's also a difficult decision to walk back if you have regrets later. You'll want to be sure the solution you pick is the best fit for your organization.
In most cases, WordPress is a better choice than a proprietary CMS. WordPress gives you more flexibility in terms of building and scaling your website. It's also very user-friendly thanks to the Block Editor, Customizer, and helpful community of users and developers.
You don't need to take our word for any of this either. Visit the WordPress showcase to see dozens of examples of what schools and universities are doing with WordPress.
Do you have concerns around choosing a CMS for your school website that we didn't address? Please get in touch and we'd be happy to discuss!
About Us

At CampusPress, we're experts in bringing innovative web solutions to schools, school districts, colleges, and universities through WordPress and our wide range of out-of-the-box and custom plugins and products.

In fact, our services in accessibility, security, hosting, support, along with an extensive suite of other tools, power millions of education websites, blog networks and portfolios. Learn more about our school website services or request info today!