The Best Web Hosting Providers for Students & Educators
The web for students can be overwhelming, and choosing a hosting provider can be a difficult process to navigate. Even more so when it's for educational purposes. The needs of both instructors and students have to be balanced with other factors, such as a tight budget.
Thankfully, you can save yourself a great deal of stress and expense by knowing what features to look out for. With the right host, running your student blogs or educational site will be significantly easier.
In this article, we'll discuss a number of factors to consider when evaluating potential hosting providers for educational purposes. Then we'll share several contenders to look into. Let's get started!
What to Look for in an Educational Hosting Provider
A web host is a company that provides services such as storing your website and making it available to the public. If you're trying to launch an online educational platform – be it a student e-portfolio system or a class blog – you'll need to find one that can meet your unique needs.
Not all hosts are equal, and it's important to know what makes some better than others. Otherwise, you could end up with a problematic provider that overcharges, doesn't include key features, or is unreliable.
As an educator, you'll want to look for several standard qualities all websites can benefit from, including:
An excellent customer service record
The ability to add new domains as necessary
Reliable uptime and strong performance
Useful maintenance services and features, such as backups
Security measures such as a server firewall
However, there are also a few unique features you'll likely need as an educator. For starters, you'll likely need to be exceptionally conscious about pricing.
Similarly, if you're teaching a class in which pupils will create their own websites, you'll want to be able to recommend high-quality hosts with low rates, or better yet one that allows you to create as many student sites as needed without incurring any additional costs.
Additionally, some hosting providers place restrictions on data storage or traffic. When choosing a plan for a course site or recommending services to students, make sure there aren't any limitations that could prevent them from carrying out their assignments.
Best Hosting Providers for Students and Educators
Now that you have an idea of what features to look for in a host, the next step is to consider which one might work best for you. Below, we've compiled a top ten list of some of the web's most reliable hosting providers for students and educators.
1. CampusPress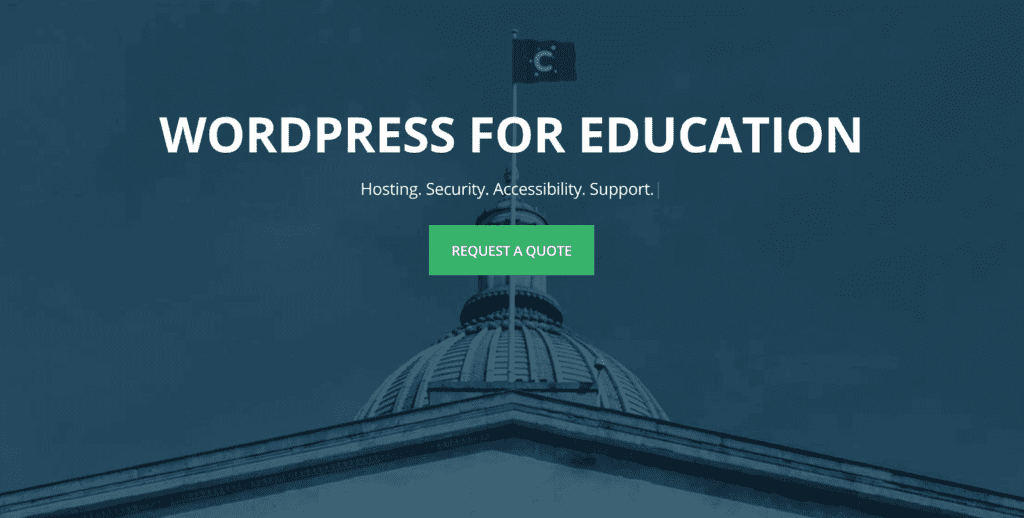 Of course, given the site you are one, we are basically obligated for this to be the top of this list. CampusPress is a WordPress-based platform for educators and students. WordPress powers over 1/3rd of all websites on the internet, and CampusPress has tailored WordPress to be used in educational settings.
As part of our plans, we provide unlimited bandwidth, uploads, and automated backups. We also make it easy to set up Multisite networks to create your district site, student portfolio system, class blog, or online learning hub.
Some other useful features we offer include:
Full maintenance and 24/7 support
Administrative features for educators and training
Unlimited bandwidth and data
Automated backups and security
Our pricing structure scales to the size of your project or organization. For more information regarding the cost, you can contact us for a quote.
For an individual teacher or student wanting WordPress sites, you might also check out our sister company, Edublogs.org!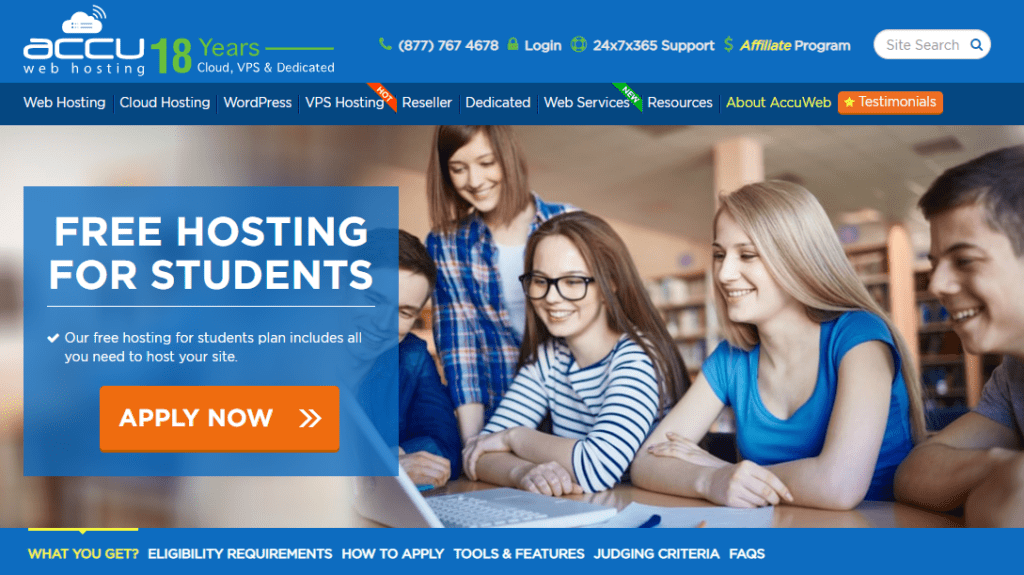 AccuWebHosting is a hosting company that offers a variety of personal, small business and enterprise plans and prices to choose from. However, the company also offers free hosting to students that is designed to help them "afford the rising cost of education and help them along the road to a successful career path in the technology field."
According to its website, the free student plan includes:
1 website
2 GB SSD storage
30 GB bandwidth
5 FTP accounts and file manager
25 free email addresses
10 MySQL databases
CloudLinux and Apache webserver
Additionally, the plan offers a cPanel/WHM control panel, multiple layer DDOS protection, a guaranteed 99.9 percent uptime and no popups/banners/advertising, among other features.
3. iPage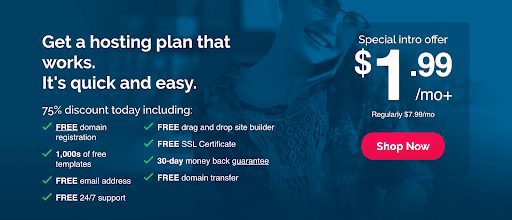 As a hosting provider, iPage offers a one-size-fits-all plan with a $2.99 per month rate for one-year terms. This is a fairly affordable option for students who need hosting for a single course project, especially since it includes a domain name.
Educators may appreciate the ability to host as many domains as you need on a single account, as well as iPage's unlimited disk space and scalable bandwidth. This host's plans also include:
One-click WordPress installation
24/7 phone and chat support
Custom email addresses at your domain
An integrated website building tool
iPage's plans start at $1.99 per month. However, keep in mind that this lower-priced option locks you into a three-year contract and you'll need to pay domain name registration and renewal costs. Instructors may still benefit from this discount, but students should consider the one-year term option despite the slightly higher monthly rate.
4. Bluehost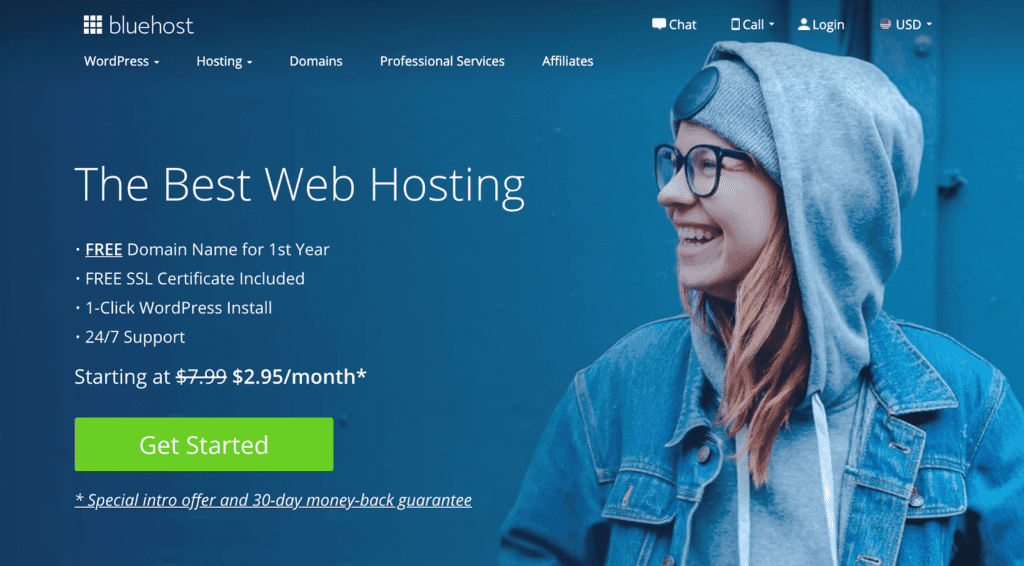 As a hosting provider, Bluehost has been supporting WordPress users since 2005. While they call their cheapest shared plan "basic," they nevertheless offer plenty of features beneficial to students and teachers.
This is an excellent provider for advanced students. Plans are highly scalable and offer 50 GB of storage, as well as unmetered bandwidth. Additionally, other features include:
24/7 support
Cloudflare Content Delivery Network (CDN) and security
WordPress pre-installed
Free staging environments
While they don't offer special student or teacher plans, Bluehost is known for being particularly affordable. You can get started for $2.95 per month for your first year, and the full price is just $7.99 per month. They also offer a 30-day money-back guarantee.
5. Wix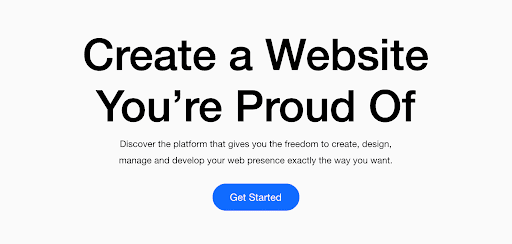 Wix is a hosted website building platform. This means that, unlike Bluehost or Siteground, students won't get the back end and hosting account experience they'll need to pursue tech or web-based careers.
However, Wix sites can make for quality student blogs or portfolios. By eliminating the need for some of the more advanced skills related to website management, this gives your students the chance to focus on their content.
Features include:
Scalable storage and bandwidth
Free domains with premium plans
Easy to use, drag-and-drop templates
The Wix Logo Maker tool
Pricing-wise, there are a few options that may work for students. The platform offers free plans with limited storage and bandwidth that should be fine for single projects. There's also a student discount available for 50 percent off premium plans, which start at $13 per month.
Unfortunately, this platform probably isn't the wisest choice for instructors. Wix's free plans require you to display ads for their services, which isn't very professional for a class blog. Their premium plans are a little on the expensive side compared to other options we've listed.
6. Weebly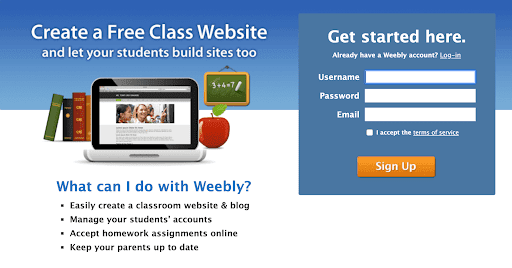 Like Wix, Weebly is a hosted website builder. However, they offer many more features for teachers and students. With Weebly for Education, you can:
Create free educational sites without ads.
Allow your students to build free sites using over 70 templates and drag-and-drop functionality.
Bulk create student accounts for fast and simple course management.
Password protect student sites for privacy and security.
Weebly for Education accounts are free for educators and include up to 40 student sites at no extra cost. You can access Pro features such as unlimited storage for $39.95 per year, and purchase additional student sites in sets of ten for $10.
7. InterServer

InterServer's Standard Web Hosting plans seem fairly basic on the surface. However, they provide several features that are useful for educators and students. A few of these offers include:
Unlimited storage
Performance optimization and reliable uptime
One-click installation for WordPress and other popular Content Management Systems (CMSs)
Server firewalls and other advanced security measures
When it comes to cost, InterServer offers an appealing deal for students – a free Standard Web Hosting plan when you sign up with a .edu email address. However, keep in mind that the offer only extends through the first year of service, after which the price jumps to the regular monthly expense of $4.

InMotion Hosting provides discounted plans tailored to educators and students, with plenty of flexibility for developing your online presence. Student plans include:
Hosting for up to six websites
Unlimited disk space, bandwidth, and email
24/7 support via phone or chat
InMotion's security suite, including hack protection and automatic backups
Students receive a 49% discount on six-month plans, and a 58% discount on one-year plans when you sign up with a .edu email address. The monthly cost runs between $4 and $5 dollars depending on which term length you choose.
Educators may be eligible for free shared hosting. You can also contact the InMotion Hosting sales team to discuss discounts on bulk account creation options for your students.
9. ZNetLive
ZNetLive places an emphasis on being user-friendly. They offer assistance from the get-go to help their customers set up their websites. That may be helpful to educators looking to provide extra guidance and resources for students.
Other features include:
Daily backups
Unlimited data transfers and 500 MB storage
24/7 support
Resource usage control for performance optimization
ZNetLive's student plans are free until graduation and ideal for online portfolios, CVs, and blogs. Simply submit a copy of your student ID for proof of enrollment.
Conclusion
Students and educators have unique needs when it comes to hosting their websites. Choosing a plan that will give you the most bang for your buck can be tricky.
Fortunately, there are several providers and platforms that offer special plans or discounts for instructors and their students, including several of those we explored in this post.
Do you have any questions about hosting your student or educator site? If so, get in touch!