We are thrilled to share CampusPress Flex – a brand new flexible theme designed for school, district, and department websites.
It's never been easier and more affordable to have an accessible, fast, and easy-to-navigate website that you can take pride in.
Interested in trying it for free? Apply for the Free Pilot program here.
Let's get into the details.
The New 'CampusPress Flex' Theme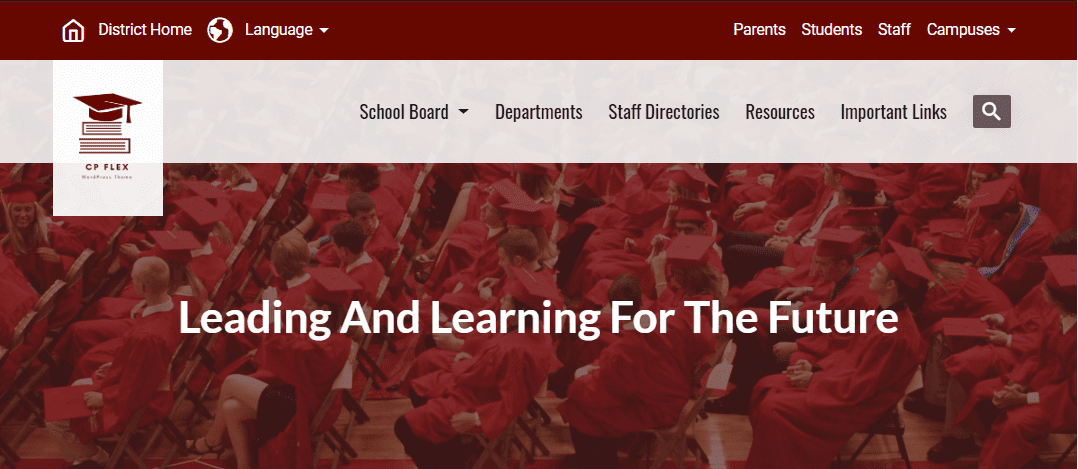 This theme is powerful. As its name of 'Flex' describes, it's ideal for all sorts of sites – schools, departments, districts, organizations, and more. We have 15 years of experience working with schools and WordPress. We used that experience to build one complete theme.
This theme is:
designed with accessibility first (more on this below)
complete with 100s of layout and customization possibilities
fast to load and looks great on all devices and screen sizes
a true "what you see is what you get" block editing experience
fully integrated with our plugins like calendars and forms
packed with features that are unique to schools, like emergency notifications
intended to improve and grow based on user feedback
When you first log in, you'll see where to choose basic site layout options like colors, fonts, and logos.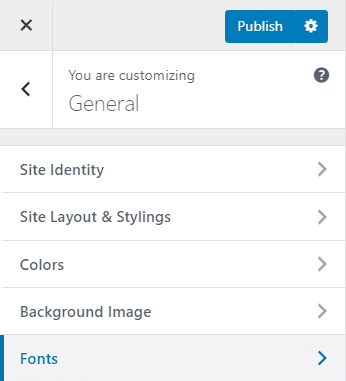 It includes several options for menus and navigation–including the 'mega menus' that many schools love!
It has built-in Google Translate integration, animations, and reusable content blocks.
This theme is available now for all CampusPress customers. For existing networks that we host, a Super Admin will have to enable it for it to appear.
A New Single Site Hosting Service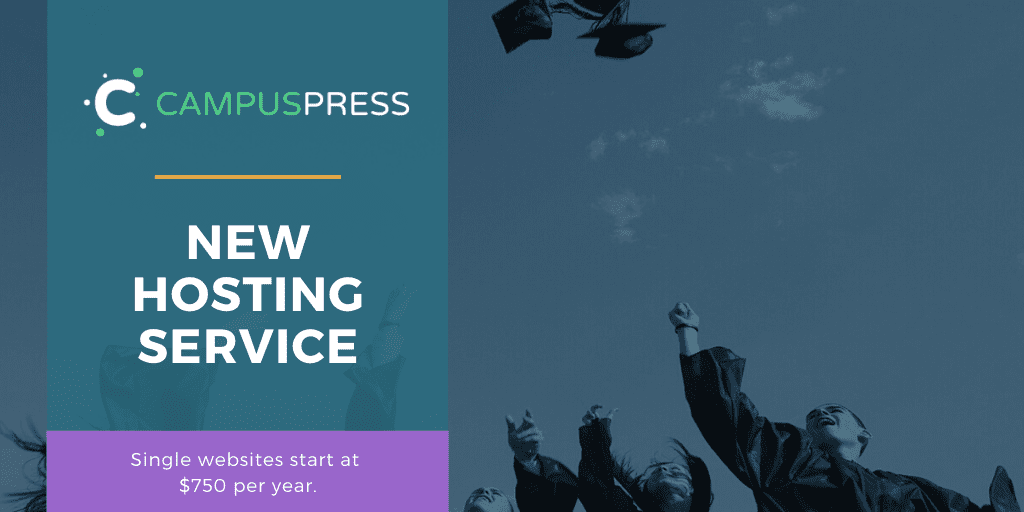 We are the oldest managed WordPress hosting service, and we exclusively host WordPress Multisite networks. The networks we host span the globe and, when combined, host millions of sites for schools and universities.
For any site using our new theme, we now have a more affordable single-site hosting option which comes with everything needed to build and maintain an individual website.
We host these sites on the same enterprise cloud hosting cluster environment as our CampusPress networks. Sites have incredible performance, redundancy, and the ability to stand up to high traffic. Your website will be able to handle sudden traffic spikes for events like student registration, first days of school, and snow days. We serve millions and millions of page views per day with ease.
If you've managed a WordPress site, you know that maintaining plugin and core updates can be a full-time job. We take care of nightly backups (encrypted and stored offsite), security monitoring, audit logging, and updates.
Costs And A Free Pilot Period
Our new single-site hosting service is available and free to try. Universities and schools can pilot it today.
As an introductory offer, we won't charge for new sites for the first FOUR months. You can build and launch a new site before paying!
You can try it commitment-free and with no obligation to continue. Should you decide not to host a site with us after July 1, we'll archive and remove access at that time.
For those who take advantage of this free pilot period, ongoing costs will be $750 per site per year. This cost is 10 to 50 times less than full custom websites with other services. With this theme, you can achieve a very similar result.
Here's how it works:
1. Complete this quick pilot application form – let us know if you have questions.
2. We'll send you a short branding survey to ask for information about your site and design needs.
3. Our team will install the site, set up colors, logos, and layout based on your branding survey.
4. We'll send you login details. You can continue collaborating with our team to polish the site and content.
5. We'll send you a 'final launch checklist' and help you to go live with your existing domain when you're ready. It's completely on your schedule.
That's it! Many sites can be complete and live in under a week!
Need More Than One Site?
Our new theme is also available on our WordPress Multisite Network hosting services. It's ideal for district websites or universities that need more than one site. You can apply templates across many sites. 'Content syndication' allows you to share news and announcements across sites as well.
Multisite networks are also heavily used for blogs, ePortfolios, faculty websites, student organization sites, and student news.
Our Multisite Network services integrate with Single Sign On services such as Google, Active Directory, and Shibboleth. Many customers make the platform 'self-service' so that faculty, staff, and even students can create sites with just a few clicks as needed.
If you need more than one site, please get in touch for a quote. You can also learn more about these services for K-12 and HigherEd.
Accessibility Compliance
Schools have legal and ethical obligations to have accessible websites. All users, regardless of visual, hearing, mental, or physical disabilities, must be able to access your website.
We help make compliance automatic and effective with the following:
markup to help visitors using screen readers or keyboard navigation. This includes skip nav links, accessible menus, and proper labels for all elements.
color selector tools that won't allow you to choose non-compliant color combinations. The tools enforce minimum color contrast levels.
designs for text links and buttons with the required contrast and identifiers for color-blind users.
reminders when adding images to include needed alt text.
an accessible sitemap link for screen readers.
integration with our Calendar plugin, which automatically includes output created specifically for screen readers.
integration with Siteimprove for ongoing reviews and monitoring.
Please see our Accessibility Statement for more information and contact us with any specific questions.
Getting Started
To begin building your next site, complete the Pilot Application Form below. We'll take it from there!
Pilot Application Form