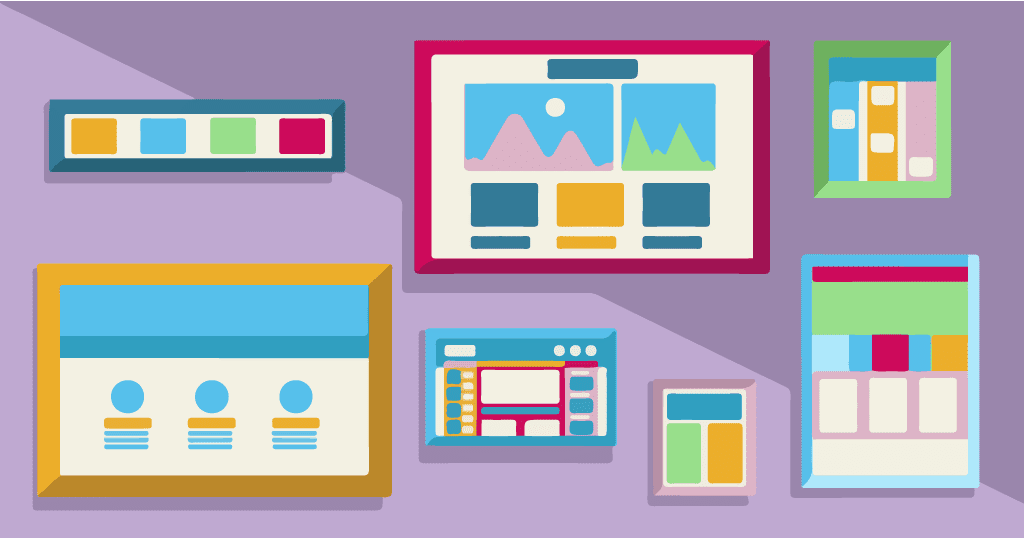 You never get the chance to make a second first impression. ~ Will Rogers
While a school website may have once been a source of static information merely used for marketing purposes, it is now becoming integral to every school's daily operation.
There are many reasons for schools to have a website. Some of these include:
Sharing information with families and the community. Office staff and teachers can avoid fielding repetitive phone calls and emails asking about upcoming events and school policies etc.
Promoting the school to prospective families. You can showcase what makes your school special and encourage future enrollments.
Providing an online hub. Your website can be your school's virtual home that links to all your other online spaces such as social media accounts and learning management systems. It can also include platforms where educators, students and even families or community members can share their work, information and ideas. The lines between blogs and websites are blurring and merging.
Offering the potential for collaboration. Schools can benefit greatly from collaboration, whether it is sharing units of work with teachers down the road, or collaborating globally on class projects. Having an online space via a school website is essential to be found and contactable. It can also provide an online home for your collaborations.
What Makes A Great School Website?
It is becoming increasingly rare for schools to not have a website at all. The biggest variable is often now the quality of the website and how dynamic it is.
You want your school website to reflect and showcase your school's strengths while enhancing the teaching and learning process.
It is certainly worth aspiring to have a website that is:
Attractive: First impressions count. Is your website visually appealing and a clear representation of your school?
Functional: How easy is it for users to navigate the website, find what they're looking for and interact as necessary? You want the user experience to be good on both mobile devices and desktop computers.
Accessible: A previously overlooked concept, it is now considered essential to make sure your website is accessible to all users, including those with disabilities.
Dynamic: How is your website moving beyond the static space of old? What measures are put in place to ensure it is updated regularly? How is the website a hub for not just information, but interaction and publication by multiple authors?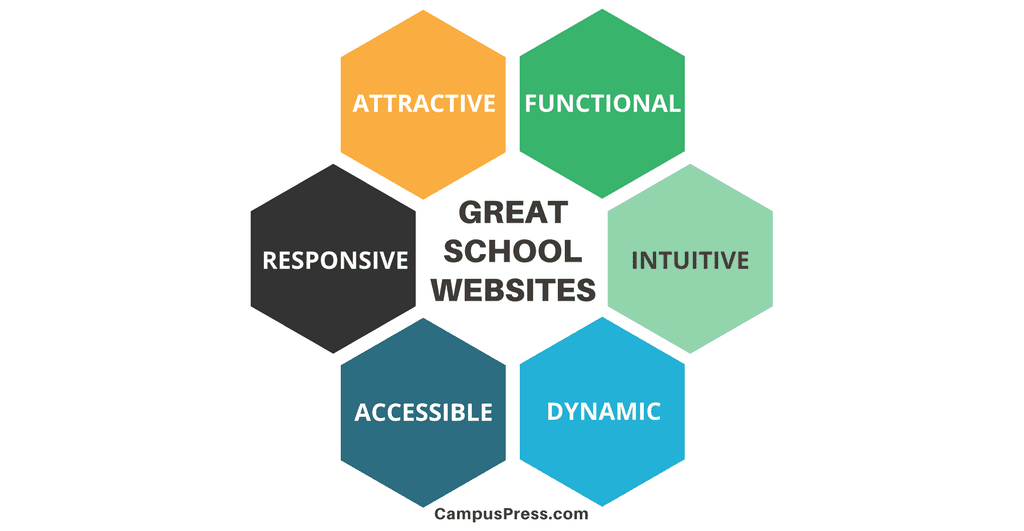 In an effort to inspire you with what's possible when designing a school website, we are showcasing 10 great school websites built with WordPress.
Looking for more tips on how to use your school website to improve school/home communication, check out this post here.
Why WordPress?
By far the most popular content management system out there, WordPress powers roughly 40 percent of the entire web. Yep, you read that right. More than a third of websites worldwide are built with WordPress.
WordPress is behind everything from Vogue to Mercedes Benz, The New York Times, Sony and Time magazine. And of course, thousands of school websites! So why wouldn't you want your site joining these lofty ranks?
The popularity of WordPress means that there is a huge worldwide community that contributes to the growth and ongoing improvement of the platform. It is open-source, which means it is often more affordable than proprietary options. Sites are mobile-friendly and meet important accessibility requirements.
One reason people love WordPress is that it is highly customizable, yet it is easy to use. You really don't need to be too tech-savvy to contribute to a WordPress site.
The other good news is you don't need to do any of the design or technical work in setting up or hosting your school website. With our school and district sites here at CampusPress, it is easy to create and customize a school website that meets your precise needs.
Best School Websites Of 2020
Onto our showcase of ten inspiring school websites, all powered by WordPress.
These represent just a tiny fraction of the high-quality school websites out there, so we encourage you to reach out with your contributions!
The website of this private girls' high school based in Melbourne, Australia, certainly makes a powerful first impression.

Why this is a great website:
Visitors get an instant insight into the school through high quality sliding photography. Without even reading any of the content on the site, you start to understand what facilities and activities this school can offer.
The homepage design is clutter-free, primarily inviting you to either book a tour or use the menu to find further information.
Scrolling further down the page you are directed to important information about the school's philosophies while being presented with the latest news from school blogs.
2) Round Rock
The Round Rock Independent School District in Texas, USA, has an impressive collection of school websites.
For ease of use and consistency, they have a set-up where all their school websites are a similar design, yet are customized to reflect the individuality of each school.
One example of this format from the Round Rock District is Walsh Middle School.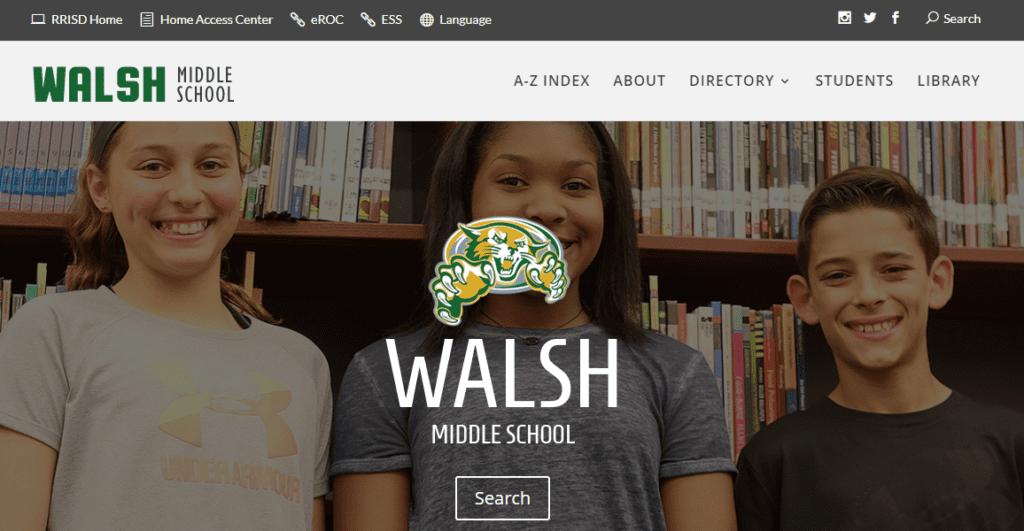 Why this is a great website:
The clear formatting ensures visitors know exactly where to search or browse for the information they're after.
The addition of a Google calendar makes it easy for schools and families to have a shared understanding of what's happening on a daily basis.
An impressive feature is the addition of a school news report presented by students and embedded on the homepage.
The Round Rock school district uses content syndication tools to post news and announcements across multiple school and district sites all at once.
This network of 13 schools is based in the San Diego area of California, USA. They are well known for their authentic and innovative work. The High Tech High website reflects their modern views on education.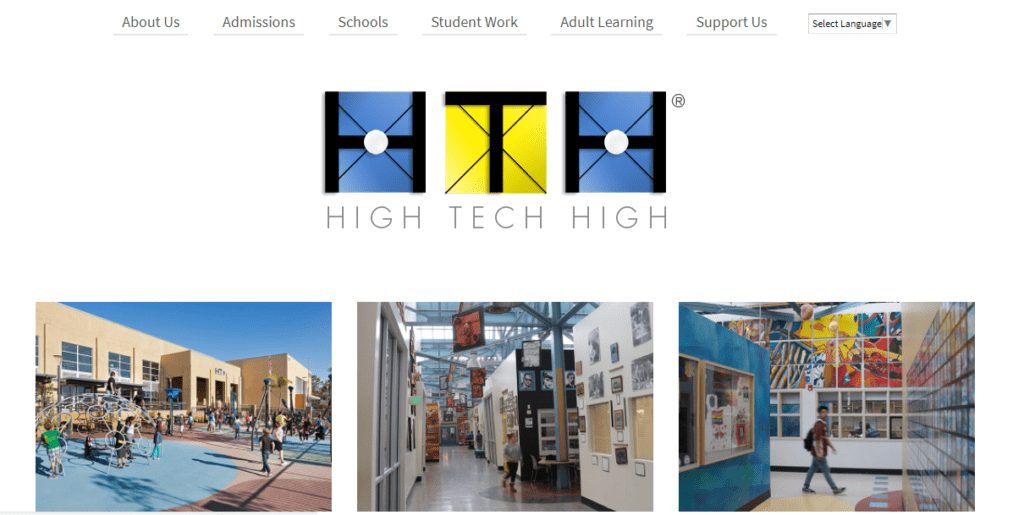 Why this is a great website:
A minimalist design makes it intuitive for users to navigate the homepage and find the individual school or information they're after.
A key feature of both the district homepage and individual school pages is the showcasing of student projects. This school is known for its innovative projects and the rich documentation on their websites adds to the user experience.
4) Assumption of the Blessed Virgin Mary School
This PK-8 Catholic school in California, USA, has a strong relationship with their community which is reflected in their school website.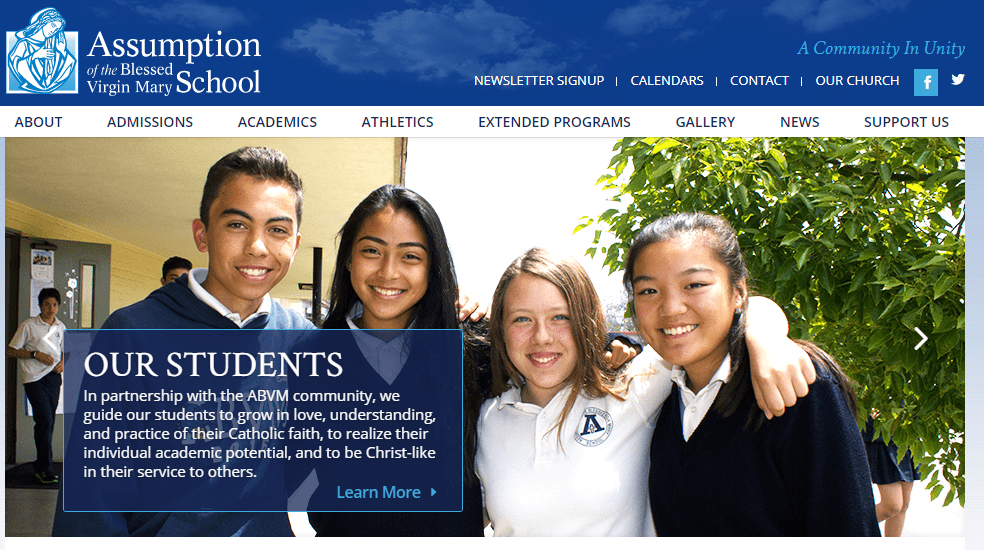 Why this is a great website:
Striking sliding photography gives a snapshot of the friendly and welcoming school culture.
Clear menu headings guide visitors to browse for the information they're after.
Regularly updated news and events make this website useful for all members of the school community.
There are links to sites for families to make further connections, such as the school's social media accounts and Google Drive folders of student images and work.
This unique school is located in Victoria, Australia. It is for Aboriginal girls in years 7-10 from remote and regional Australia.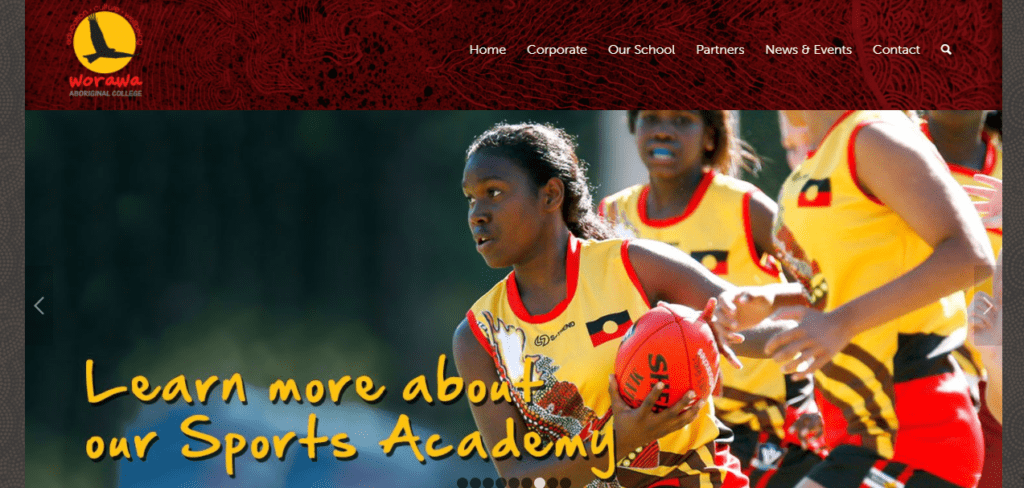 Why this is a great website
The unique indigenous culture of this school community is reflected in color choices and imagery.
Large visual boxes and traditional menu headings are used to direct visitors to explore the website.
There are links to connect further with the school community such as through their popular Facebook page.
This K-12 independent school in Wales presents a well-maintained and informative website for all members of the school community.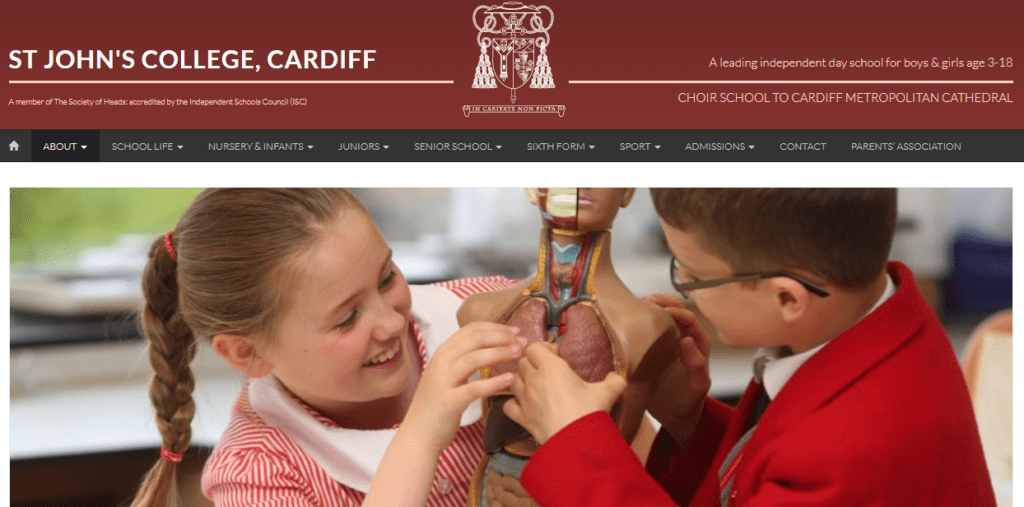 Why this is a great website
Like many of our top choices, high-quality photography on a backdrop of school colors really unites both the virtual and physical impressions of the school.
Visitors can either use traditional drop-down menus to find the information they're after or scroll down for a principal's welcome message and key news.
The recent news from different areas of the school is updated regularly with everything from cake stall information to student projects.
This is a free public school in Phoenix, Arizona for grades K-6.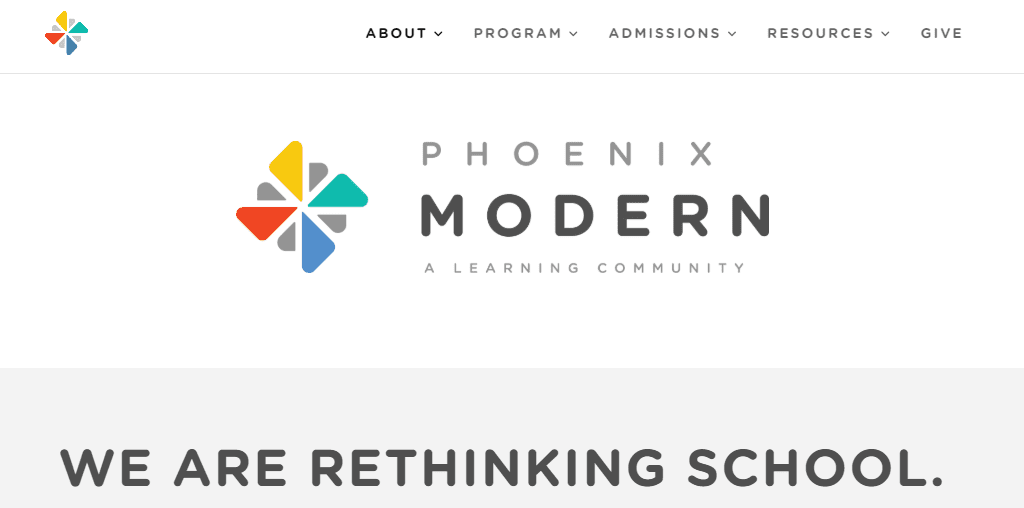 Why this is a great website
A clean and simple style that uses colors and animations to highlight the younger grades that make up this school.
The minimal number of menu choices make it easy for visitors to find the information they are looking for and highlights the school's fundraising and student recruitment efforts.
Located in New York, this school district website acts as a hub for individual school websites, similar to the Round Rock example above.
This sort of format is easy to set up with CampusPress if you have multiple schools as part of your campus or district.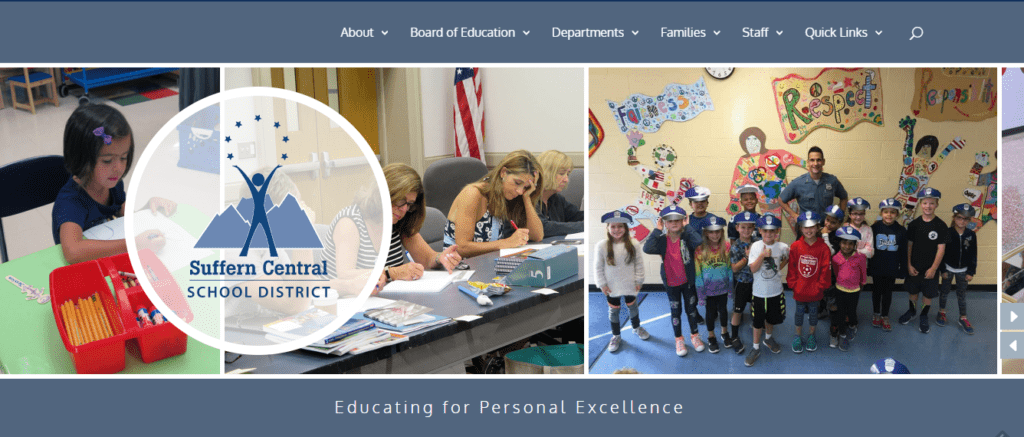 Why this is a great website
The scrolling photographic display gives a glimpse of daily life within the school district.
A regularly updated Twitter feed, school news and calendar makes this a dynamic and useful website for all visitors.
The websites of the seven schools this district oversees can easily be accessed through a prominent link at the top of the page.
Rural Scotland is home to this prestigious school for students aged 9-18. Strathallan's website makes a strong first impression.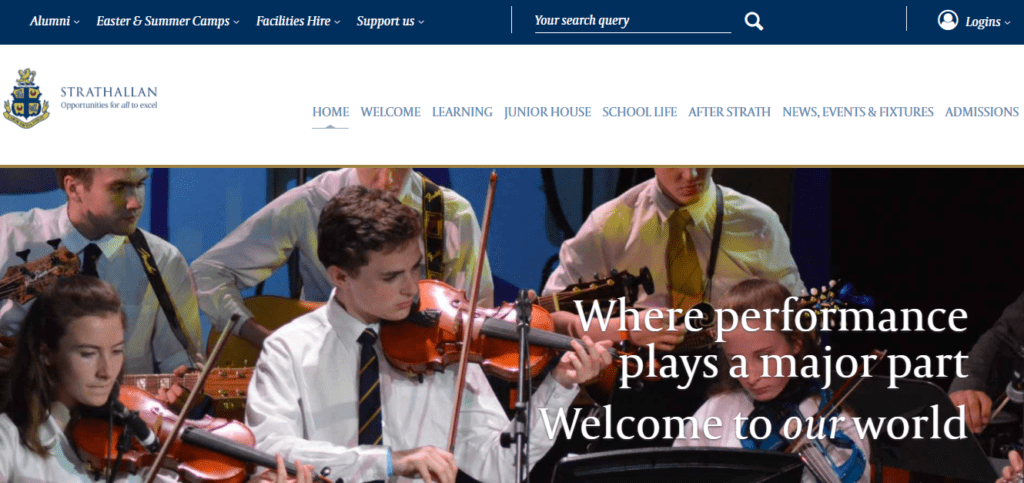 Why this is a great website
Slogans on the sliding imagery (…welcome to our world) are a clever way to present the culture and philosophy of the school.
An impressive promotional video of the school takes center place when scrolling further down the homepage.
The overall layout of this site is nicely uncluttered with large text and links invitingly displayed in image boxes.
Set in the Himalayan foothills, this Indian international school has a rich history that is showcased in their exceptional website.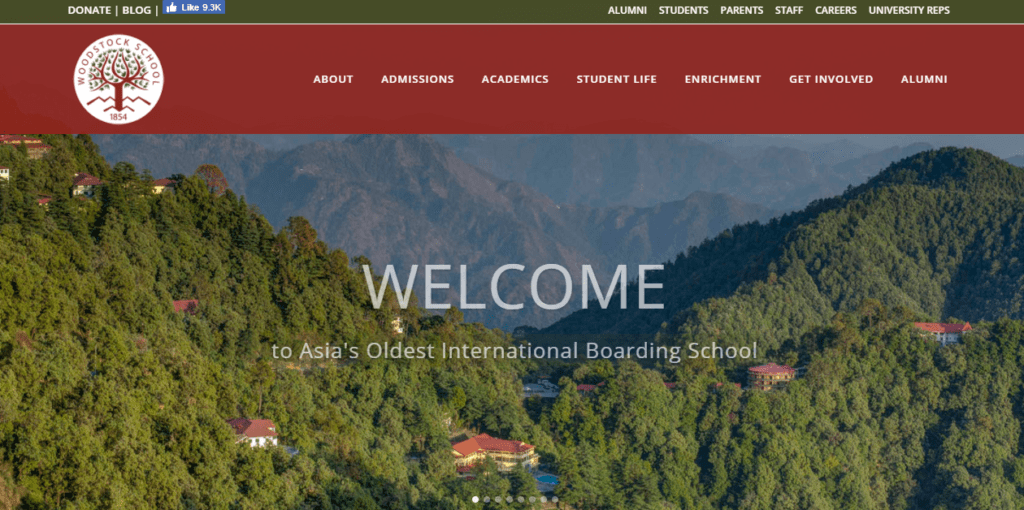 Why this is a great website
Breathtaking imagery doesn't need to be cluttered with excess words. This school sells itself by featuring full-width photographs of its stunning location.
Beyond the homepage is a well-maintained blog with information about school events.
The website truly caters to staff, students, parents, and alumni with links to resources and private portals.
Final Thoughts
A high-quality school website can make a strong first impression for all members of the community.
If this post has inspired you to consider giving your own school website an overhaul, you are always welcome to get in touch with our CampusPress team for obligation-free advice.
Once you have your school website set up you can put strategies in place to ensure it is well maintained and used effectively.
Parent education and encouragement is imperative. You might consider avenues you could use to teach parents about how to get the most out of the school website. These could include newsletter articles, open nights or family classroom activities.
When visitors are arriving at your virtual front door do they feel welcomed, informed and part of your school community? Don't miss the chance to nail your first impression.
About Us
At CampusPress, we're experts in bringing innovative web solutions to schools, school districts, colleges, and universities through WordPress and our wide range of out-of-the-box and custom plugins and products.
In fact, our services in accessibility, security, hosting, support, along with an extensive suite of other tools, power millions of education websites, blog networks, and portfolios. Learn more about our school website services or request info today!