Using Your School Website to Communicate with Your Community
Last updated on December 13, 2019
Your school website is one of your most valuable communication tools. Students, parents and people from your local community will use it to find out more about your school, so it's important that you make the best possible use of it.
In this post I'll examine some of the ways in which you can use your website to communicate with all of your stakeholders. I'll identify some of the content you can include in your site to effectively communicate, and give you some tips to enhance your website and make it a more effective communication tool.
Continue reading, or jump ahead using these links:
1. Make Your Website Easy To Use
If your site is going to be an effective communication tool, it's essential that people can find what they need easily. So make sure your site provides a great User Experience, or UX. This means that using your website has to be a pleasant experience and, most importantly, it has to be easy for people to find the information they need or that you want them to access.
Some good practices to improve UX include:
Make your site responsive and mobile friendly, so people visiting it on a small screen can use it effectively.
Make sure your main navigation menu has a logical structure and works on all devices, including mobile.
Add links to useful and/or recent content to your home page to make it easy to find (but not too many links).
Structure your content logically – by date, curriculum area, year group or a combination of these. A CampusPress site is powered by a database so it makes this really easy.
Think about your design and whether it makes UX better – avoid garish colours, busy patterns and an amateurish design. I've seen so many school websites that seem to be going for a 'designed by the kids' look when in reality if you did ask the kids to design it, they'd come up with something much, much better.
For important content, add nice big buttons linking from the home page.
2. Keep Your Website Updated
A website that's regularly updated is a much better communications tool. It helps you to show people what's going on in your school, what the students have been learning, the activities taking place and any changes going on.
Aim to update your site every week, either with a blog post, curriculum information, homework, video or galleries – even better add some of these things every week. And make sure you add letters home, so parents have easy access to them.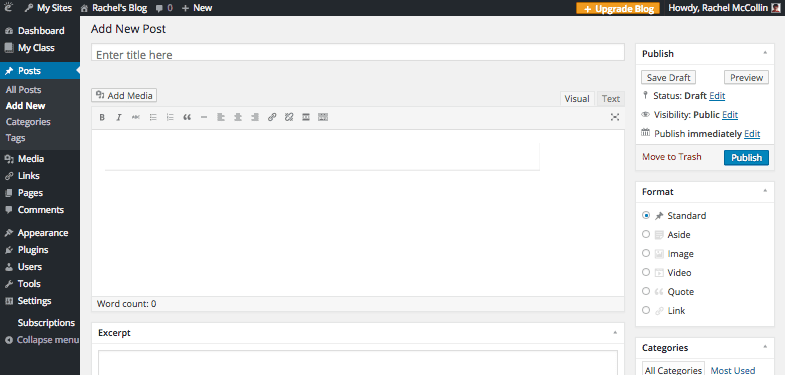 With CampusPress you can schedule posts in advance, so you can reserve a chunk of time every week to update your site and then add a few new posts which will be published over the course of the week.
3. Include Information for Prospective Students and Parents
Parents or students considering applying to your school will look at your website first. They'll need to be able to easily find information that will help them know whether the school is right for them.
Think about creating a special section of your site for prospective parents and students, with all the information they might look for. Include things like:
Your school prospectus – if this is a PDF, consider adding a page with the text to make it more accessible.
Admissions information including any forms people have to complete and information on deadlines – consider adding a form for online applications.
Data and results – people will want to know how successful your school is, and an essential part of this is data. Include a summary of your school's exam or test results for the last few years. In some countries you're required to include this by law.
Ethos and values – what's important to your school? Including this will help people decide whether the school is a good fit for them.
Staff – especially senior staff. Include a statement from your Headteacher or Principal, welcoming people to the site and saying why you're proud to lead this school. Photos and information about other staff also help bring the school to life.
Media – choosing a school isn't just about studying and exams, it's also about finding the right fit. Give prospective students and parents a feel for the life of your school by including lots of images and media. Show extracurricular activities, awards and productions, amongst other things.
4. Add Curriculum Information and Homework
Using your school website to let students access homework will prevent them from being unable to complete if if they've been absent or have lost homework they were given in class – it happens to all kids at some point! It also helps parents to support their kids, by making it easy for them to access homework independently.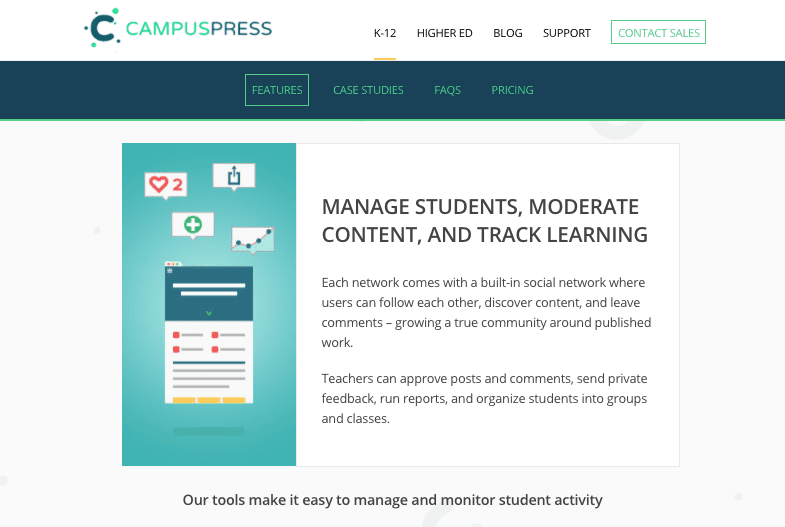 CampusPress lets you create a built-in social network to support learning. Users can follow each other, discover content, and leave comments, and teachers can approve posts and comments, send private feedback and run reports.
Homework isn't just about being able to download work that has been set – if you let your students submit work, discuss it with each other, find resources and research sources and get feedback, then your website will be an even richer resource.
5. Link to Social Media
Linking your site to social media will help you to notify people when you've added new content and will encourage them to engage with you online. You can use social media to:
Let people share your content via their own social media feeds.
Share your own content to twitter, Facebook and other channels where your school has a presence.
Distribute new content via RSS feeds.
If you're not using social media to tell people what's new on your site, you're missing out on a lot of traffic. Members of your school community don't have the time to check your site every day, but if you tweet new content then they'll know when there's something new to check out.
And don't forget the humble email – signing students and parents up to email updates will let you tell them when there's new content that's relevant to them. You might want to create different email lists for different year groups so they only get what they need.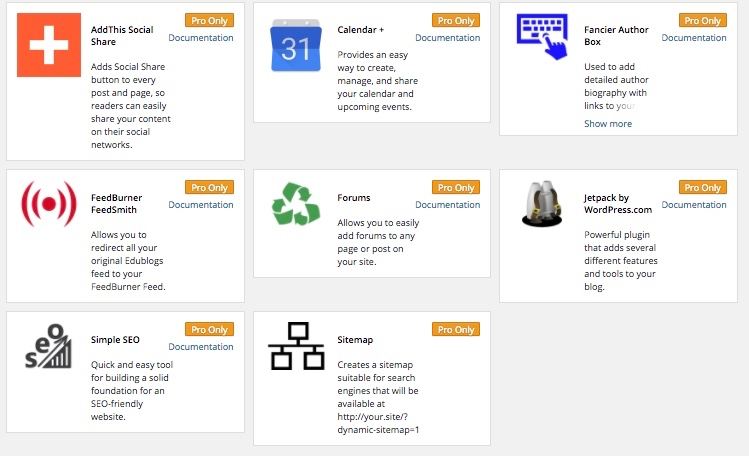 CampusPress and Edublogs include a bunch of social media plugins you can use to link your school website to your social media channels and make your communication even better. These include the JetPack plugin, that lets you automatically push updates to your social media channels as well as letting people share content on their channels.
6. Include Fun Stuff
Communication via your website isn't just about homework, data and admissions. Make sure you include the fun stuff too. Using media including video, galleries and slideshows give people a better picture of what life in your school is like and is great for parents, who love seeing what their kids have been doing.
Things to include:
Awards and presentations. Include photos of students receiving awards, information about school teams and how they're doing, and add text too to provide context.
Productions, concerts etc. If you can video in-school productions or upload images from them, this will act as a permanent record of some really memorable events in your students' lives. It also shows prospective parents about the life of your school, and means existing parents can see photos of their kids acting, playing instruments and more.
In-class activity. If you've been doing something visual in class, consider filming it or taking photos and uploading them to your website. For example a school I work with recently hatched chicks in their kindergarten class, and put a live feed of the eggs on their website so the children could see the chicks hatching even if it happened outside school hours.
Slideshows. If your students have been preparing slideshows, upload these to a site like SlideShare and embed them in your school website. You can also include slides from parents evenings and other events.
Include videos, links and games on other websites that will support learning and link to your curriculum – embed them in your site or link to them.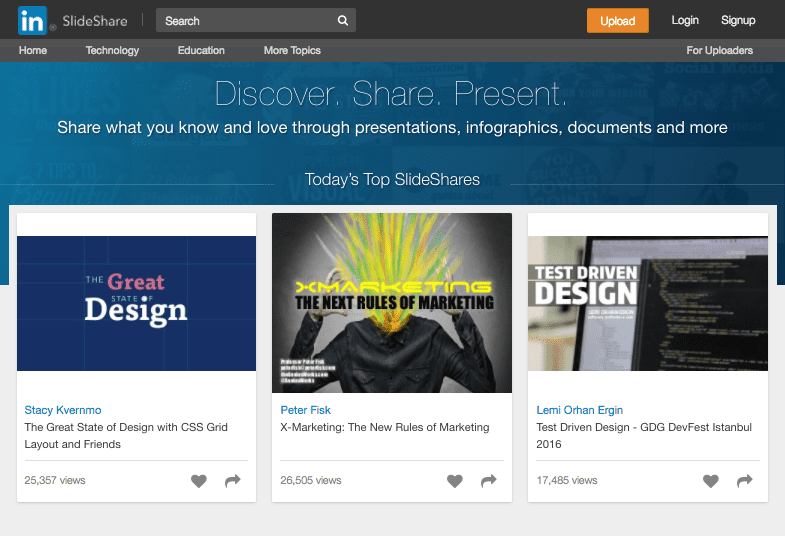 Your Website is a Valuable Communications Tool – Make the Most of It!
School websites are taking over from letters home and printed prospectuses as the most valuable source of information for current and prospective students and parents.
If you keep your site regularly updated and include useful content, then your site will be a valuable tool for communicating with your school community. And if you make sure the site is easy to use, well structured and mobile-friendly, then it will be even more effective.
Take some time to plan how you'll use your site to communicate and identify what's best for you and your community – you'll find that using Edublogs or CampusPress can help.