As a Super Admin, you can enable Google Analytics to track visitor data across all sites on your CampusPress network.
Once set it up automatically displays data that your users can refer to for their site in Dashboard > Statistics.
In the Network Admin dashboard, go to Settings > Google Analytics
Create Google Analytics Account
1. If you are new to Google Analytics, click on the link to "sign up for Google Analytics" or access http://google.com/analytics.

2. Click "create an account."

Set up Google Analytics Tracking ID
Once you have created a Google Analytics account, you'll need to create a tracking ID for your network.
1. In your Google Analytics account, click the Admin dashboard.


2. Under the Accounts panel, create a new account.

3. Select "Website" and "Universal Analytics"

4. Fill in your account and web property information.
Multiple website properties can be associated with one account name.
The Website URL will be the main URL of your CampusPress network – ie. blogs.myschool.edu
Leave "Default page" field blank otherwise it will break some statistics inside WordPress
5. Select your Data Sharing Settings, and click "Get Tracking ID"

6. Accept the Google Analytics Terms of Service Agreement.
7. Copy your Tracking ID


Set up a Google API project
This step is optional but will result in smoother experience for users and bigger limit of requests to Google which may be helpful for big networks.
1. Create Project by visiting the Google Developers Console.
​2. Enable "Analytics API" by searching in "Library" and selecting "Analytics API" > "Enable API"
3. Click on "Credentials" and then "Create credentials" > "OAuth Client ID"
4. Click "Configure consent screen" (if required), configure your details and click "Save"
5. Select "Web application" and enter the following into "Authorized redirect URIs" text area: http://mycampusdomain.com/ (where http://mycampusdomain.com is your Campus site URL):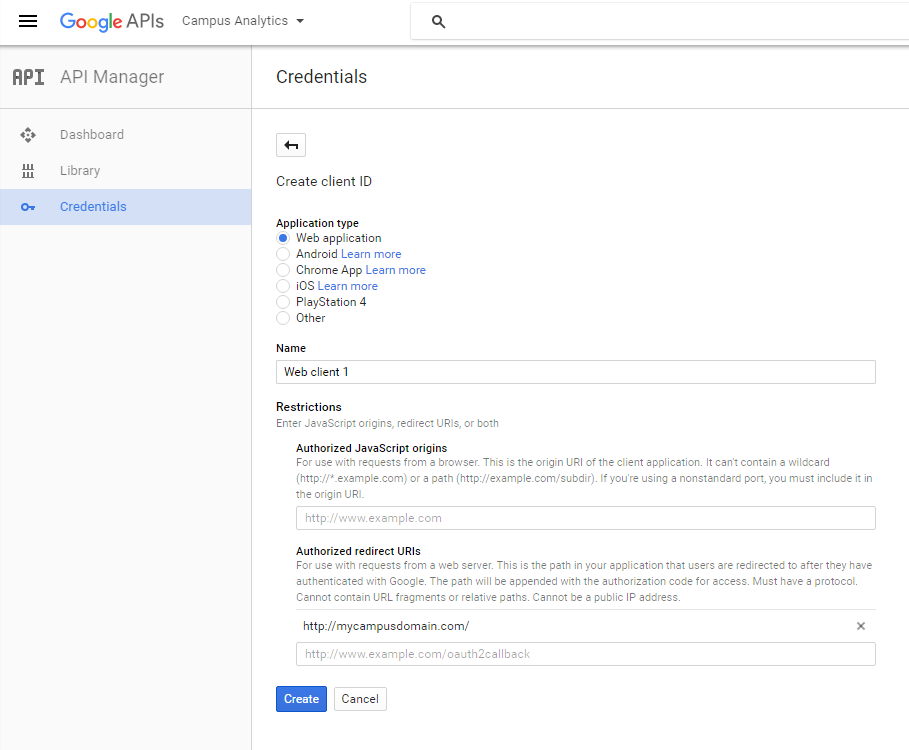 Click "Create" and save your "client ID" and "client secret" for later use
6. On the same page ("Credentials") click "Create credentials" and choose "Browser key" > "Create" and copy "API key" for later use
7. Paste the newly created "client ID", "client secret", and API key into the Settings > Google Analytics  > Set up Google API project in the network admin of your CampusPress network
8. Click "Authorize"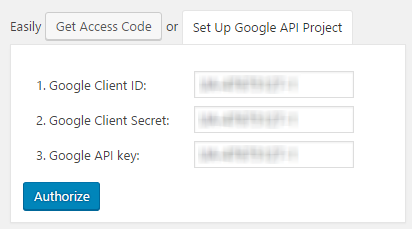 Set Basic Network Tracking Settings
1 Go to Settings > Google Analytics in the network admin dashboard.
2. Click "get access code" or "set up Google API project" (more details about it in section above)


3. Paste your Google Analytics tracking ID in the Network-wide Tracking Code field (it should be automatically set after logging in).

4. If you want the data collected from Google Analytics to display under Dashboard > Statistics for all of the sites in your network, select the network tracking ID from the drop-down menu (it should be automatically set after logging in).

5. If you are mapping your CampusPress install to a custom domain (i.e. awesome.campuspress.com to awesome.edu), enable domain mapping.

6. As the Network Admin, you can select the minimum level of users that can view the Google Analytics data in Dashboard > Statistics.
You may also allow Site Admins to overwrite this setting if you want them to decide which level of users can view statistics.

7. Click "Save Changes"
It may take 24-48 hours before stats start to appear in Dashboard > Statistics in dashboard of all sites on your network.

Warning:
Please do not set up filters for GA property used for WP dashboard statistics as it may corrupt data.