The Super Admin user is the person who looks after all network management.

A super admin user has the ability to:
Manage the access and level of responsibility of all users on all sites on your network
Manage network and site features including access to plugins, themes and privacy settings
Create new users and new sites
Edit posts, pages, comments on any site without being added as a user to the site
Reset passwords and change users' profile details
Access all the Super Admin menu items via the Network Admin dashboard
CampusPress also has a support super admin user role.  The support role has limited network admin access and is only able to access the Sites and Users menu items in network admin.  Send an email to contact@campuspress.com if you want a person added as a support super admin user.
Other User roles
The other user roles you commonly have on a network are:
Administrator
Editor
Author
Contributor
Subscriber
The role you assign a user is based on how much access you want them to have to a site.
The Administrator has the highest access of the site users and is able to use all enabled site features, while a subscriber has the lowest, only able to read and write comments.
Learn more about user roles here.
Choosing your Super Admin User(s)
The Super Admin user has the highest level of access and responsibility above a regular blog Administrator, and has complete control of your entire network.
Deciding who and how many users you assign as a Super Admin user requires the greatest consideration because they have the highest level of access and are able to make changes that affect the entire network. Mistakes made by a Super Admin user can have a significant impact on your network.
About the network admin dashboard
The "Network Admin" dashboard is a separate dashboard area for all Network Management on a network – this is where you now access your Super Admin area.
The link is only view-able and accessible to users who have been granted Super Admin privileges for the Network.
You access the "Network Admin" link via the My Sites drop-down menu on your admin bar.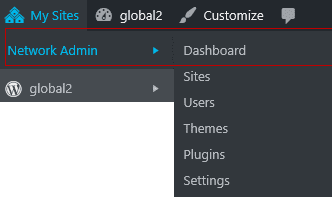 Once in the Network Admin dashboard you can quickly change back to the "Site Admin" Dashboard, by clicking on the dashboard link to any of your sites under My Sites.