Thanks to e-learning technologies, online education has made it easier for teachers and students to connect all around the globe. Although virtual classrooms certainly have their advantages, they aren't without fault.
Fortunately, teaching your students through an online platform can be just as successful and engaging as if you were in a traditional classroom. The key is knowing the strategies you can use to spark discussions and promote an active educational environment.
In this post, we'll discuss some of the challenges that come with online learning. Then we'll provide six tips you can use to facilitate and encourage discussions both with and among your students. Let's get started!
The Challenges of Online Learning
There are many differences between traditional and online classrooms, both in terms of instruction and social interaction. Of course, the biggest variance is the availability of in-person exchanges.
Online learning environments can feel less personal. As an educator, you may not be able to make connections with your students as easily as you might if you were to physically see and talk to them regularly.
This can make evaluating their performance more difficult for you, but more importantly, it can be an isolating experience for your students. A lack of support and insight from classmates may make it harder for them to flourish.
Then there's also the technological requirements needed for e-learning platforms. The productivity of your students is reliant upon having the proper tools and systems in place.
However, for each challenge that comes with online learning, there are also advantages. For example, students may be more likely to participate online than they would be in a classroom.
What's more, virtual learning technologies such as class blogs and discussion forums can help mitigate some of the associated challenges. You can utilize online education tools to provide a more in-person feel and encourage students to interact with one another as well as the course material. 
6 Tips for Facilitating Online Discussions With Students
Online discussions are similar to traditional ones in that they require proper planning and preparation to be as successful as possible. Let's take a look at six tips you can use to facilitate them with students and, in turn, maximize their virtual learning experience.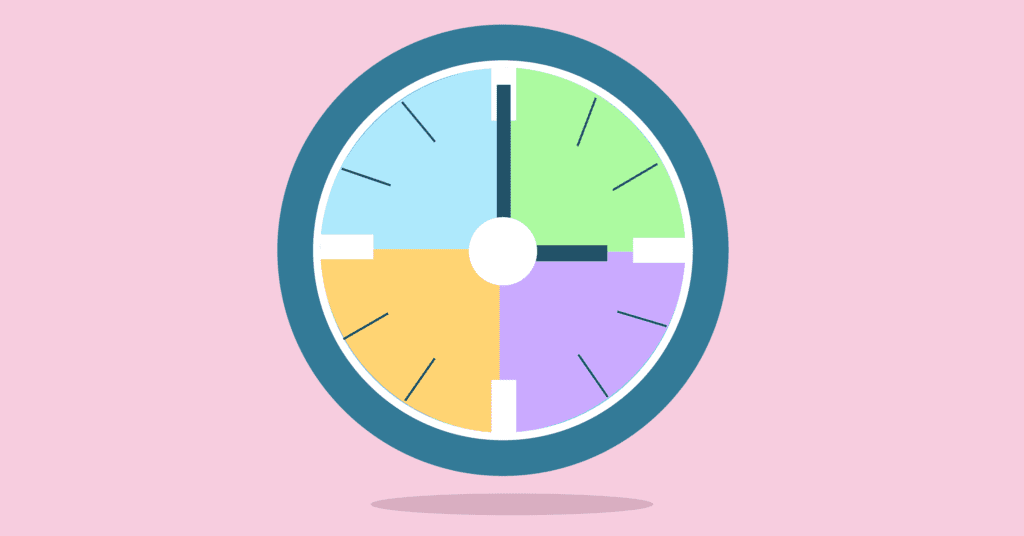 1. Consider Offering an Asynchronous Discussion Format
Asynchronous learning lets students access course materials and tools at their own pace. It provides flexibility that isn't always possible with synchronous learning formats, such as online courses with scheduled sessions.
There are a handful of advantages to offering asynchronous discussions. For example, students can post when it's most convenient for them. They'll be able to spend more time providing thoughtful answers, rather than feeling rushed to respond as quickly as possible.
This format is also an advantageous option for large classrooms. When you have a lot of students trying to discuss something all at once, such as through a live chat, it can quickly become overwhelming and confusing.
Asynchronous discussions offer breathing room for both you and your students. They will be able to take the time they need to craft insightful and well-thought-out responses. Plus, it will make it easier for you to assess their participation and answers for a more accurate evaluation.
2. Make Discussions Part of the Course Grade
In a perfect world, your students would be eager and excited about participating in online discussions. Unfortunately, that isn't always the case.
If you make discussion contributions optional, you run the risk of low engagement. As a result, you won't get to learn as much about your students and their progress, and they won't get as much out of the course as they otherwise could.
That's why you may want to consider making online discussions part of the course grade. Students will be more likely to contribute meaningfully if they know it influences their score and ability to pass the class.
How much of the overall grade you think discussion participation should account for is, of course, up to you. However, somewhere between ten and 20 percent is enough to give some reluctant students the push they might need.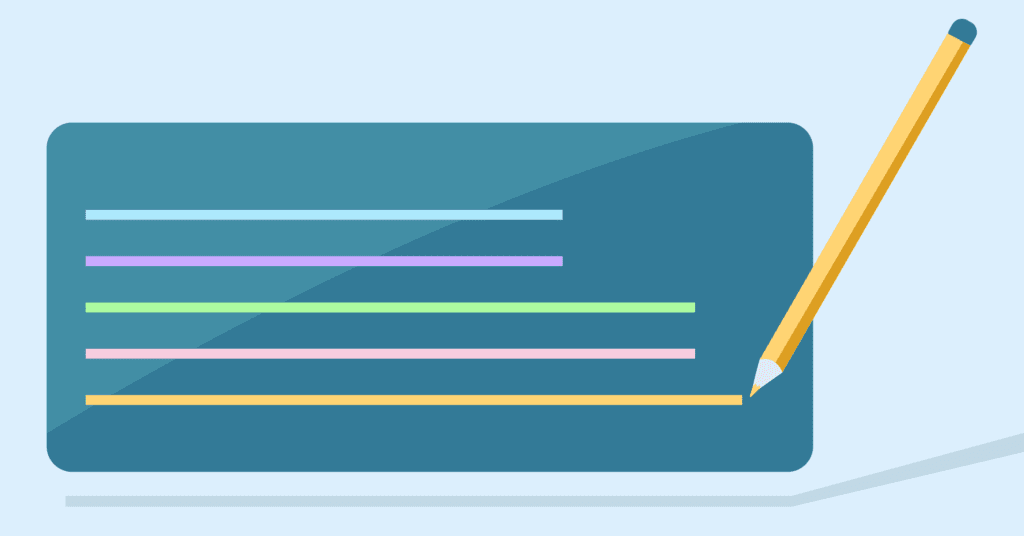 3. Provide Clear Guidelines, Expectations, and Instructions
Once you determine how online discussions will fit into course grading, it's important to make sure your students are clear on it. For example, they'll need to know if posts will be scored according to frequency, depth and quality, or a combination of these factors.
You may want to consider creating a discussion forum grading rubric so there's no confusion about what the expectations are. The University of Central Florida offers some helpful examples. These can give you a solid starting point for how to structure yours: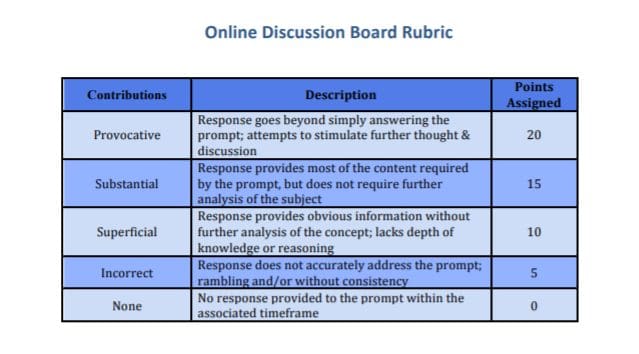 Being direct and specific from the start about discussion expectations can help prevent unnecessary confusion. It can also make grading easier for you.
Additionally, it's a smart idea to craft instruction and guidelines for students to follow on how to comment and participate in discussions. For example, you might touch on points such as:

How often students are expected to reply per week
If participation is due by a certain date after the prompt is posted
Whether there is a minimum number of posts students should reply to
To further clarify your expectations, you might consider including exemplary posts from past classes. This can help students align their participation with your discussion goals.
4. Present Opportunities for Students to Connect
When it comes to online discussion boards, it's just as (if not more) important for students to interact with one another as with you. Remember, virtual learning environments can be isolating.
Therefore, it's helpful to foster a sense of community where students feel comfortable exchanging ideas and collaborating with one another. An effective way to facilitate this is by creating a forum where students can talk amongst themselves.
Another strategy is to have students pose questions to one another. You could also have them critique or engage with each other's responses. This can help make them more comfortable and eventually embrace and support one another throughout the course.
To provide more opportunities for students to connect through online discussions, it's worth experimenting with different techniques. For example, The Teaching Professor outlines two popular and useful methods:
Starter and Wrapper. This is when one student acts as the 'starter' by posing a question or comment about the material. Then other students serve as the 'wrapper' and provide answers and input.
Save the Last Word for Me. This discussion structure is when half the students post something from the material they don't understand and the other half offers their interpretations.
If you have a large class, it may be beneficial to break it up into smaller groups. Doing so can make it easier for students to make meaningful connections and engage in more in-depth discussions.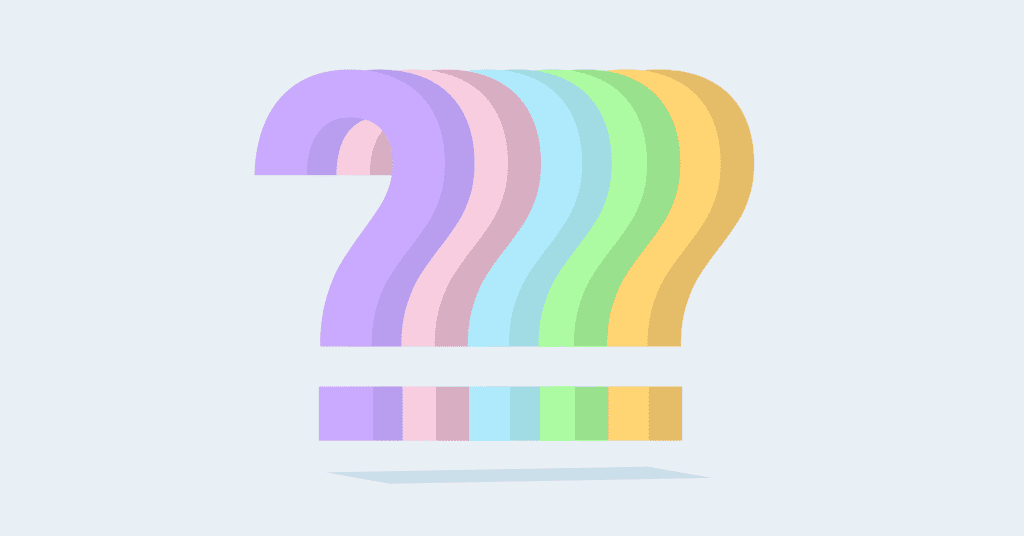 5. Craft Thought-Provoking Questions
At the end of the day, if you want your online discussions to be lively and engaging, you need to pose quality questions that warrant thoughtful responses. Making it a priority to structure prompts that go beyond basic, generic queries can help students produce better answers.
For example, rather than simple "yes or no" questions, aim to make them more open-ended. Consider asking students for their opinions, but require them to back their statements up with course concepts. This can make discussions feel less rigid and help students to open up and infuse some creativity and critical-thinking into their contributions.
You could also pose questions that foster debate. While you don't want to be controversial, a healthy prompt that encourages multiple points of view can provide a valuable learning experience.
6. Play an Active Role in the Discussions
As the instructor, your role in online discussions is crucial. Responding to posts, asking follow-up questions, and requesting students clarify or elaborate on their answers can help keep them engaged. After all, it's hard to fault those who don't willingly participate if you're not doing so yourself.
If they know the discussion board is monitored and frequently reviewed, students will also be more likely to be mindful of their participation. The earlier you start responding to posts, the better.
However, your presence is also a bit of a balancing act. You don't want your role to be too dominant, as students may become focused on interacting only with you rather than each other.
As the discussion facilitator, you may want to redirect questions back to students when needed. Rather than agreeing or disagreeing with an answer, for example, you can respond in a way that spins the discussion back to others to stimulate debate.
Conclusion
Keeping students engaged and actively participating in discussions can be difficult for any educator. However, it's particularly challenging when your class takes place online.
As we explored in this article, six tips you can use for facilitating online discussions with students include:
Offering an asynchronous discussion format.
Making discussions part of the final grade.
Providing clear guidelines, expectations, and instructions.
Presenting opportunities for students to connect.
Crafting thought-provoking questions.
Playing an active role in the discussions.
Do you have any questions about facilitating online discussions with students? Let us know in the comments section below!
Why WordPress
So, all this information but don't know where to get started? You should consider using WordPress for your school website. It currently powers roughly 40 percent of the websites in the world that use a content management system. There is power in numbers!
Also, it is easy to use and customize, and there are countless security and hosting solutions to choose from. Additionally, WordPress can provide you with an online platform that is a website, blog, calendar solution, among other functionalities that are available. 
About Us
At CampusPress, we're experts in bringing innovative web solutions to elementary schools through WordPress and our wide range of out-of-the-box and custom plugins and products.
In fact, our services in accessibility, security, hosting, support, along with an extensive suite of other tools, power millions of education websites, blog networks and portfolios.
Learn more about our solutions for school websites or request info today!